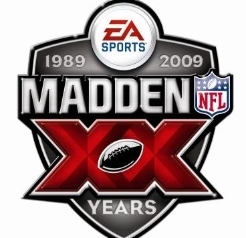 Sorry for the lack of updates in the last two days; my cable modem finally gave up the ghost Thursday. Turns out that on the Internet, voices don't carry…
Anyway, Madden NFL 09 arrived this week, and I've been trying to get in as much time with it as possible. The game's far more refined and playable than NCAA Football 09, and the game looks terrific to boot. There are a few annoying details, like the highly repetitive announcing (though, by default, it's much improved over the horrible AM radio guy from the last two years), wacky and inaccurate player jersey numbers and some odd uniform issues (The Broncos' home uniform isn't in the game and has been replaced by one of the team's alternate duds, for example), but these can be forgiven if the game plays well.
Fortunately, it does - and what's more remarkable is that the game's "Madden IQ" difficulty system actually works very well. Now, the opening tests in the "Tron" arena really don't, but the adjustments that the "IQ" makes after each game are sensible and akin to methodical manual slider tweaking. I've found - to my surprise and delight - that the more I play the game, the more like real-life football the game feels. Certainly, that won't be enough for the hardcore slider tweakers, but as a recovering tweakaholic myself, the "Madden IQ" system has been a revelation thus far.
Unfortunately, it appears as if the game's online leagues will be vastly disappointing - again - and if you want a realistic number of NFL plays (roughly 110 a game), you'll need to play with at least 10-minute quarters, but the game finally gives off a much-needed big-game vibe that's recognizable as NFL football, with shutterbug fans, an all-new and informative broadcast-like presentation and a vastly improved in-game camera that finally keeps all the receivers in view when passing.
It's immediately obvious that this is the best Madden in years, and the game might have finally caught up in quality to their greatest competitor; the now four-year old NFL 2K5.
Better late than never.
***
I'll be traveling this weekend to Pasadena, California to take part in the "Maddenpalooza" (man, that needed a better name) event at the Rose Bowl. I'll be back on Tuesday, but I don't expect to be able to post any coverage of the event until Wednesday.