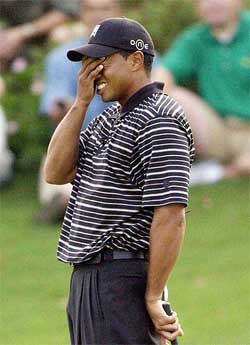 Let's look at the back of Tiger Woods PGA TOUR 08's box, and read the Features section. Here are the first two listed:
ALL-NEW EA SPORTS GAMERNET
Now post your greatest rounds ad most awe-inspiring shots online and challenge the world to beat your best. Post your own or play against new challenges uploaded every day by other gamers Interactive user-generated content has come to sports gaming!
ALL-NEW PHOTO GAME FACE
Use real-life photographs of yourself to create in-game characters who look just like you. No artistic skills required!
***
Sounds good, right? After all, these new and exciting features were touted in early April on IGN with the subheader "the new Tiger changes golf forever"; the screenshots looked great and the impressions by IGN writers were entirely favorable even at that early stage.
So it's reasonable to assume that nearly five months later - and after the game was released - that these features would at least function, right?
Oops.
While Gamernet seems to be working sporadically - at least from a console - the Photo Game Face feature is a complete no-go at this point. The site used to upload the photos, EASportsWorld.com (the game's flimsy and not-very-informative manual says to go to tigerwoods08.com, but routes you to easportsworld), isn't working correctly, and hasn't been since at least the game's launch. EA Sports World, which is in "beta", is either unable to log users in, unable to upload their photos, or - if you get that far - has gotten the few uploaded photos mixed up, sending surprised gamers the wrong pictures when they try to create their online alter ego. There's apparently a "freeze issue" in the game, as well - and how that relates to EA Sports World (if at all) is unknown.
Needless to say, consumers - many of which purchased the game in order to try out the new features, are rightly upset and disappointed, and there have been reports of game stores even accepting opened copies for return due to the fact that the game's stated feature list is not available for use.
On the EA Sports Forums, a moderator known as "EAcom Golf Tim" left this message on multiple forums in response: "I just spoke to the Producer (sic) of the game and they are aware of the issues with EA Sportsworld and intermittent reports of online play lag as well as the freeze issue in one of the Career Mode events. The first few days of any new game release is a time to load balance the servers to optimize their performance now that users have the game. This could not be done prior to the game being shipped. Again, they are aware of the issues and are working behind the scenes to get them balanced and corrected ASAP."
Although this shouldn't be considered "official", until EA properly addresses these problems, it's all gamers have to go by. Of course, if learning about load-balancing was really necessary, a free pre-release beta - a la Call of Duty 4 - should have been in order, rather then sticking their most enthusiastic customers with a partially-functioning game.
The problem here is simple: EA used their "beta" website to launch a $60, decidedly non-beta product. EA put this game on shelves - making money from unsuspecting gamers - knowing full well that it's two newest features don't yet function correctly. Publishers have a responsibility to ensure that their games work - like they're advertised to - the minute that a consumer unwraps it and puts that disc into their console.
Server load-balancing (assuming that is the real problem) isn't the consumers' responsibility, and early adopters shouldn't be expected to become guinea pigs and post-release testers for a full-price product under any circumstances.
Using the excuse of "it's in beta" won't fly here, and it shouldn't.